Performances


Rutter's "Magnificat", The Royal Hall, Harrogate, UK, 27th June 2015

'Quia fecit mihi magna' built dramatically with prominent parts for organ, French Horn and the male voices once more. This was sung with great panache with Dr Padmore having a firm grasp of his musicians. As the echoing strains of the Sanctus subsided we were treated to some exquisite singing by the soprano soloist
Katy Kelly
in the 'Et Misericordia'. Her clear pure tone was beautifully delivered across the vocal range. Add to this the gentle and focused sounds of the choral singing and this was one of the highlights of the evening.


In contrast to this tranquility the 'Fecit potentiam' was a real tour de force with great energy accentuated by jazz rhythms with the orchestra adding tension and vigour.
Katy Kelly
shone in the gently moving 'Esurientes' whilst choir and orchestra gave firm accompanying support.
The Harrogate Advertiser, 2nd July 2015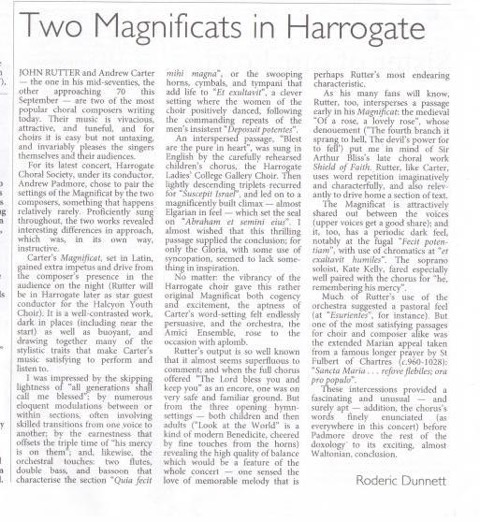 The Church Times, Harrogate



The Magic Flute, Glasthule Opera Festival, Co. Dublin, 16th June 2011

Katy Kelly negotiated the much-feared part of the Queen of the Night with aplomb, overwhelming friend and foe alike with her high-speed coloratura onrushes and piercing everybody with her peak notes particularly in the first of her two big arias.

The Irish Theatre Magazine, Wolfgang Marx -original article


An Evening of Opera and Art Song, The Pepper Canister Church, Dublin 21st August 2011
The Irish Times, 23rd August 2011 - Michael Dervin - original article



Orfeo ed Euridice, Glasthule Opera Festival, Co. Dublin, 22nd June 2010
What secured this production was the trio of young soloists. ... Katy Kelly was silver-toned as Euridice
The Irish Times, 23rd June 2010 - Andrew Johnstone - original article


La Boheme, Glasthule Opera Festival, Co. Dublin, 23rd June 2009
It says something for the strength of the cast that Brendan Collins as the painter Marcello, and Katy Kelly as Musetta, the girl on the make, almost stole the show with their singing and acting in parts that gave the singers scope to really develop their characters.
Irish Mail on Sunday, 28th June 2009 - Michael Mofatt



Katy Kelly sings Musetta's big aria strongly,


The Irish Times, 25th June 2009 - Michael Dervin

- original article



National Symphony Orchestra Lunchtime Concert Series 2008

The Irish Times - Andrew Johnstone

Handel's 250th Anniversary Concert

The Irish Times - Michael
http://www.irishtimes.com/search/index.html?rm=listresults&filter=datedesc&keywords=%22katy+kelly%22&x=0&y=0


Television
Katy was a guest soprano on RTE television's 'The Symphony Sessions'. Katy performed arias from Mozart's Der Zauberflöte.
http://www.rte.ie/tv/symphonysessions/